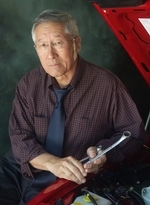 559.213.9338
559.432.1250 fax
559.213.9338 cell phone

[email protected]
7520 N. Palm Ave., Suite 102
Fresno CA, 93711
Receive Email Alerts from Me
Providiing Exceptional Valley Real Estate Services Since 1987
Valley raised and schooled, Harvey is knowledgable in the cultural, economic, and geographic facets of the greater Fresno area.  Excelling scholastically, athletically, and involvment in student gov't  prepared him for his later contributions.  Harvey served as local chapter President of the Prof Photoghers of America and later as the State Treasurer, as a board member to Nancy Hinds @ Hinds Hospice,  board member to Selma Lane and the Woodward Prk Homeowners Assoc, board member in Rotary of America,  and as Advisor/Tutor in the original Southeast Asian Literacy Program.
He has served Mike Mcgarvin and the Poverello House for over 25 years in the capacity of Volunteer and policy Board Member.  Harvey currently is on the Foundation Board and can still be found most weekends attending and conducting worship services.  He has been blessed w/many friends and graduates at the Pov.  
With the same commitment and integrity to community and friends, he has been recognized by his real estate peers and Century 21 International with many  awards.  A multiple recipient of Century 21's Masters Ruby, Emerald and Diamond Awards,  several International Gold Associate Awards,  and also the esteemed and coveted Centurion Commendation Trophies for reaching the pinnacle of industry production.
Avocations include coastal and foothill hiking, ardent cycling, automobile "wrenching" and golfing in addition to his previous vocations in Professional Photography and Keyboard Musicianship.
Still working with his original broker, John Carey Sr and his son, John Jr, both of whom are valued friends and mentors, Harvey's core fundamentals of commitment, integrity, service, professionalism and loyalty remain unchanged and steadfast:  "Our purpose, our mission in life is to serve"
So whether it's questions regarding a short sale, foreclosure, loan modification, loan application, a traditional sale or purchase of Real Estate, call me.  I still place great value on the importance of sharing a cup of coffee, meeting over lunch or "hooking up" at your place or mine. Working together to reach your goals, that to me is " PERSONAL",  call me,  i'll be glad to see you!