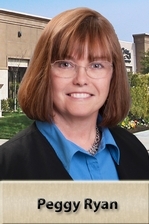 559.392.9179
559.432.1250 fax
559.392.9179 cell phone

[email protected]
7520 N. Palm Ave., Suite 102
Fresno CA, 93711
Receive Email Alerts from Me
Peggy Ryan - Background and Career -
It's all about –CLIENT SERVICE!  With a lifetime career of providing excellent customer service for my clients, my experience, knowledge and positive attitude supports my definition of Excellent Client Service:
Listening - to what my client wants every time - Client First.
Hardworking - doing what it takes to bring it all together for client - Client Satisfaction.
Education and Experience to - Serve client to best of ability.
Follow-through - with all details from beginning to end - Ease for Client.
Communication - a must daily, bi-weekly, what ever it takes to - Inform Client.
 Provide a positive experience - Client for life - Friends Forever.
Born and raised in California. Love for God, Country, Family and Friends. Military Mom and Aunt.
We are blessed with a beautiful family of three children and their wonderful spouses who blessed us again with eleven most wonderful grandchildren.
My love for real estate started many years ago. My career started in sales, moved on to mortgage loans and administrative.  My love for people brought me back to sales where I thrive in meeting new people and seeing their dreams come true with buying the perfect home or in selling their family home to downsize or upgrade depending on the needs in their lives. I do look forward in meeting you and serving you. Thank you for taking the time to read about my life. Call me today.  I want to help you with your real estate journey. Dedicated-Hardworking-Experienced-Patient!
Peggy Ryan, Realtor